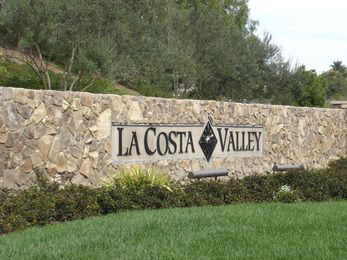 La Costa Valley is a newer development on the southern flank of Carlsbad. It has the advantage of being in the high ranking San Dieguito school district, and it has the town's best recreational center with huge pool & hot tub, tennis courts, gym and community meeting space on site. A full time recreation director organizes events, so there is much to do and plenty of ways to stay involved with your community.
Conveniently located within just minutes of La Costa Valley is the Forum shopping center. Loaded with clothing stores, pampering spas, book store, natural foods grocer, restaurants & much more!
La Costa is an upscale area built in the nineteen-eighties that is known for its great range of homes. Affordable town homes and condos (La Costa has the highest concentration of these in Carlsbad) appeal to young couples who want to live in an exclusive area for an affordable cost. Larger town homes and luxury family homes are also available, and many have gorgeous views of the beautiful golf course, which hosts championships at the national level. (La Costa also has a world-class tennis facility that sees its share of national championships.) The world famous La Costa Resort and Spa is surrounded by rolling hills; properties there also have superb views. Some homes look out over the lagoon or the ocean, and many are exquisitely designed and landscaped.