North County San Diego Golf Courses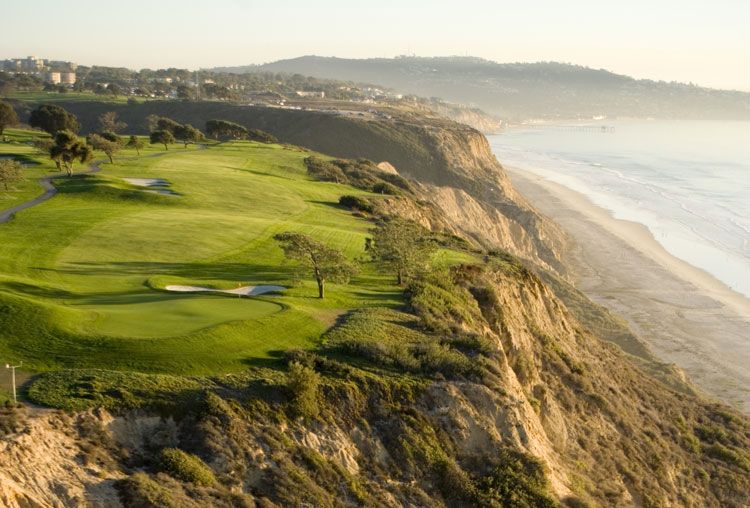 Do you consider yourself to be a golf enthusiast?

Then San Diego is the place for you! Besides the outstanding weather, the beautiful natural surroundings and the wonderful lifestyle, San Diego is also home to more than 90 golf courses that are scattered throughout the city. Whether you are a new golfer who is still learning the basics or an expert who has been playing for years you are sure to enjoy the different golf courses, the varied terrain and the luxurious amenities surrounding the courses.

Why endure the dry heat in Las Vegas and Palm Springs or the humid and rainy weather in Florida when you can enjoy wonderful weather and perfect golfing conditions in San Diego?

Not to mention that the best golf courses in San Diego are also located right near other famous attractions and sources of entertainment such as the San Diego Zoo, LEGOLAND and Balboa Park.

San Diego is home to famous golf courses such as the famous Torrey Pines Golf Course, which is one of the busiest golf courses in San Diego due to its prominence in the PGA tour. It was also where Tiger Woods and Rocco Mediate thrilled the golfing community at the 2008 U.S. Open Championship when Tiger Woods won his third U.S. Open Championship and beat Rocco in the first hole of a sudden-death match after an 18-hole playoff. Although this is one of the finest golf courses in the area, it is extremely difficult to schedule a tee time on short notice and it is also one of many unique and highly desirable golf courses. If you are interested in visiting and golfing at the Torrey Pines Golf Course make sure to plan ahead and schedule your tee time early.

San Diego's North County coastal and inland regions are a golfers paradise with more than 40 diverse courses to choose from.

The Arnold-Palmer designed Park Hyatt Aviara and the Tom Fazio designed Grand Del Mar golf courses are just a taste of the luxurious and stunning golf courses that are graced by the cooling breezes from the Pacific Ocean and warmed by the sun.
Complete List of North County San Diego Coastal Golf Courses
Aviara Golf Course – Carlsbad
The Crossings at Carlsbad – Carlsbad
Rancho Carlsbad Country Club
Morgan Run Resort & Club – Rancho Santa Fe
Crosby National Golf Club – Rancho Santa Fe
Fairbanks Ranch Country Club – Rancho Santa Fe
Rancho Santa Fe Country Club – Rancho Santa Fe
Rancho Santa Fe Farms Golf Club – Rancho Santa Fe
The Bridges Rancho Santa Fe – Rancho Santa Fe
The Grand Golf Club – Del Mar
Del Mar National Golf Course – Del Mar
Del Mar Country Club – Del Mar
Center City in Oceanside – Oceanside
El Camino Country Club – Oceanside
Emerald Isle Golf Course – Oceanside
Ocean Hills Country Club – Oceanside
Oceanside Municipal Golf Course – Oceanside
Lomas Santa Fe Country Club – Solana Beach
Lomas Santa Fe Executive – Solana Beach
Pendleton Marine Memorial Golf Course – Camp Pendleton
There are many other wonderful and award-winning golf courses scattered around the neighboring communities and all throughout San Diego. With so many outstanding golf courses it's no wonder Golf Digest named San Diego as one of the top 50 golf destinations in the world.
Plan Your Golf Getaway
Whether you are planning a business golf trip or a personal getaway you are sure to enjoy your time golfing at one of the many San Diego golf courses. The award-winning golf courses in San Diego are characterized by beautiful gardens, luscious surroundings, perfectly manicured and clean courses and luxurious amenities. Whether you are golfing at a public golf course or a private country club you are sure to have an unforgettable experience and a great game of golf.

So, what are you waiting for?

Schedule your tee time at one of the many outstanding North County San Diego golf courses and head out to work on your swing!

If you have any questions about the golf courses in North County San Diego or any of the other local attractions and amenities don't hesitate to contact Sue De Legge & Associates for assistance.

The team is made up of experienced professionals who are experts in everything that has to do with North County San Diego.

Connect today to learn about the best golf courses, the most luxurious homes and the best lifestyle you could possibly dream of. We look forward to hearing from you and assisting you with all of your North County San Diego real estate needs.

Image courtesy of TheLocalGolfer.com