Welcome To Solana Beach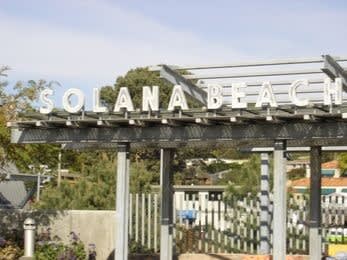 South of Encinitas and north of Del Mar you will find the city of Solana Beach. With approximately 13,000 residents, this community prides itself on supporting the arts. Solana Beach's City Hall hosts rotating art exhibits, and the artists of the community are active in beautifying the area in unique ways.
Residents of Solana Beach enjoy the many recreational opportunities that arise from its location in beautiful coastal Southern California-golf, tennis, kayaking and hiking are popular, there are parks and beaches to visit, and two community centers that offer classes and recreational programs. The Cedros design district is a focal point of Solana Beach and the trend here is design. From fine art shops feature sculptures, Italian ceramics, mosaic tables and hand-built frames to unique home furnishings, you'll be taken with the diversity of tastes; contemporary, country or ethnic treasures from around the world, there are exquisite pieces for any style. A fashion junkie? You'll find something for every mood or occasion, from designer classics and travel outfitters to distinctive jewelry. Not much of a shopper? Enjoy casual outdoor cafes and the relaxation of the health & beauty spas along the street.
Solana Beach hosts a Farmer's Market every Sunday and is also a convenient spot for travelers with its centralized train station.