Welcome To Rancho Santa Fe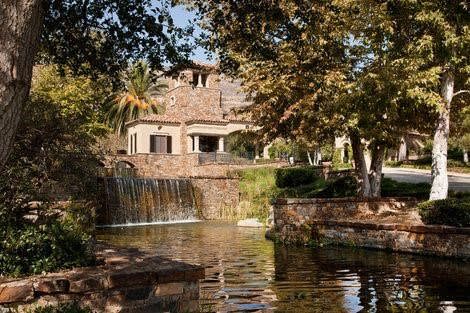 Serene and bucolic, Rancho Santa Fe is tucked away amidst the lush, rolling eucalyptus-crowned hills of North County San Diego's horse country. A primarily residential area, it is anchored by a charming, historic downtown designed in the elegant Spanish Revival style, whose graceful lines are also echoed in many of the older properties in the Rancho Santa Fe real estate market.
Long known for containing some of the most highly sought-after North County San Diego real estate, Rancho Santa Fe features a premier selection of architecturally distinctive luxury homes on expansive lots, many of which contain stables and other horse-keeping facilities. The area has been an exclusive equestrian enclave for the better part of a century, something which is apparent not only in the homes themselves, but also in the way that the surrounding landscape has been maintained and developed. Miles of horseback riding trails wind their way up and down the hills and throughout the community and there are several equestrian service providers and organizations as well, the most notable of which is the Rancho Riding Club on Rambla De Las Flores.
Rancho Santa Fe is also known for superb golf, with its oldest course serving as the centerpiece of the iconic Rancho Santa Fe Golf Club. Other courses in Rancho Santa Fe are in the Morgan Run Resort & Club, The Crosby, the Fairbanks Ranch Country Club, and the Del Mar Country Club. When you launch a Rancho Santa Fe property search , you will find that these country clubs feature an adjacent selection of homes as well, ranging from rambling Spanish haciendas to Mediterranean-inspired villas.
Apart from its equestrian-friendly environment and exceptional golf, Rancho Santa Fe also features a variety of tennis courts, sprawling polo fields, and even croquet facilities. What's more, the community is served by some of the best schools in the country – the R. Roger Rowe School is a California Distinguished School, for example, and Torrey Pines High School has thrice been named a prestigious National Blue Ribbon School.
To preview currently available Rancho Santa Fe real estate, use this site's customizable Rancho Santa Fe property search tool . For more information on area listings and the different communities here, read on below and get in touch with Rancho Santa Fe Realtor Sue De Legge at your convenience.
Exploring The Communities Of Rancho Santa Fe
Rancho Santa Fe, which encompasses the area spanned by ZIP codes 92067 and 92091, is comprised of a variety of distinct communities, each of which has its own distinguishing amenities and home types.
The Covenant, which is the oldest established community in the area, is unarguably the heart of Rancho Santa Fe. As its name implies, the Rancho Santa Fe Covenant is an exclusive community that adheres to restrictions concerning architectural style, developments, and land use, all of which are designed to preserve its unique Spanish-flavored, Old California character.
Once home to generations of Native Americans, the area we now know as Rancho Santa Fe became the Rancho San Dieguito at the advent of Spanish colonization. Governed by the Mission San Diego, ownership of it would pass to the powerful Californio family of Juan Osuna, San Diego's first mayor, in 1840 and the Osuna adobe still stands to this day. The family would eventually sell their land grant to an Atchison, Topeka and Santa Fe Railway subsidiary, the Santa Fe Land Improvement Company, in 1906.
Present-day Rancho Santa Fe owes its existence to this railroad company, who first introduced eucalyptus trees into the area, thinking to use their timber for railroad ties. When this failed, they turned their attention towards turning the Rancho into a planned community of estate properties, which it still is today.
Architect Lillian Rice, who was then with the Requa and Jackson architectural firm that had been hired to design the Rancho's Civic Center, then proceeded to set the tone for the community's architecture with her adoption and re-imagining of the Spanish Revival style. Rice's elegant designs, which incorporated numerous, now-iconic elements from Spanish farmhouses and haciendas such as filigree ironwork, exposed wood beam ceilings, tiled courtyards adorned with fountains, and even bell towers, became popular among property owners.
Today, the Rancho Santa Fe luxury homes in the Covenant still follow the same romantic themes, with the community having adopted their protective covenant in 1928. So much has been lovingly preserved, in fact, that the Covenant area is now a State Historic Landmark and a California Cultural Landmark.
The Covenant includes the RSF's vibrant downtown, anchored by the Inn at Rancho Santa Fe (which opened its doors as the La Morada in 1924), as well as many of the finest Rancho Santa Fe estates. Properties are screened by mature tree cover and set back far from the road and it would be unusual to find one with a lot that's less than two acres in size. A network of private hiking and horseback riding trails blankets the area, which extends approximately 50 miles and connects the common areas of the Rancho Santa Fe Association.
As for educational options, residents of the Covenant are served by the elementary and middle schools of the Rancho Santa Fe School District and the high schools of the San Dieguito Union High School District, which include Canyon Crest Academy, La Costa Canyon High School, San Dieguito Academy, and Torrey Pines High School.
Fairbanks Ranch, which is actually two different communities, the Fairbanks Ranch Country Club (FRCC) and Fairbanks Ranch, has a history as interesting in its own way as that of the Covenant. This gated community that's now home to some of the most sought-after Rancho Santa Fe homes for sale used to belong to just one person – none other than the first "King of Hollywood," Douglas Fairbanks. Along with his then-wife, "America's Sweetheart" Mary Pickford, Fairbanks bought a large parcel of land in the Rancho Santa Fe area in 1924, establishing Rancho Zorro, which was meant to be a country retreat as well as an agricultural venture. Oranges were planted and harvested in the property until the 1950s, after which it was sold, broken up, and then reassembled once again by land developer Ray Watt in the late '70s.
Taking his inspiration from the Rancho Santa Fe estate homes for sale nearby, Watt plotted out Fairbanks Ranch's 1,240 acres into estate-sized lots, which commenced selling in 1981. The Fairbanks Ranch portion is comprised of 618 lots, which are now the site of magnificent, custom-built homes that range in size and style from 2,500-square-foot Tudor Revivals to sprawling 20,000-square-foot Mediterranean villas. The FRCC area contains Watt's 341 production homes.
Altogether, Fairbanks Ranch also has more than 75 acres of lush grounds, a magnificent lakefront clubhouse, 27 holes of championship golf, grass and clay tennis courts, and a charming commercial center called the Fairbanks Village Plaza. Children here are served by the Solana Beach School District and the San Dieguito Union High School District, with schools including Solana Santa Fe (K-6), San Dieguito Academy and Torrey Pines High School.
The Crosby, like Fairbanks Ranch, takes its name from a Hollywood icon, Bing Crosby, who once owned property in the area. The gated master-planned community is home to some of the most highly desirable Rancho Santa Fe luxury real estate, which ranges from custom homesites to golf course villas to Lillian Rice-inspired Spanish-style mansions. It is also where you will find the Crosby Club, which includes the Fred Couples-Schmidt/Curley Design par-70 golf course, a Swim and Athletic Center, a tennis garden, and almost 200 acres of green space. Lot sizes are one to more than two acres and the community is easily accessible from the rest of Rancho Santa Fe and the North County via the Del Dios Highway. Schools that serve the area are part of the Solana Beach School District and the San Dieguito Union High School District.
Whispering Palms is another Rancho Sante Fe planned community with exceptional golf as its centerpiece. Surrounding the Morgan Run Resort & Club, a regional landmark, it features a superb collection not only of Mediterranean and Spanish Revival luxury homes, but also condominium and townhouse communities. Morgan Run offers a 27-hole championship golf course, a tennis complex with 11 courts, a relaxing spa, and a clubhouse with relaxed fine dining options. Among the schools serving the community are the Solana Sante Fe, Skyline and Solana Vista elementary schools as well as those of the Dieguito Union High School District.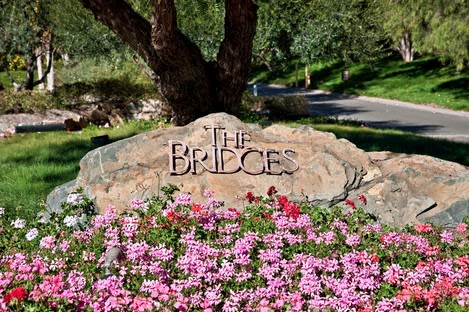 The Bridges, which extends across 540 acres of rolling countryside, is a quintessentially Rancho Santa Fe gated community and, like many of the newer developments in the area, takes pride in its championship golf. Its Robert Trent Jones II Group-designed par 71 course is as beautiful as it is challenging, making it an ideal venue for everyone from beginners to tournament players. Strongly reminiscent of the architecture and landscaping of Northern Tuscany, the Bridges features Rancho Santa Fe luxury homes on lots that are at least one acre or more. Architectural styles range from classic RSF Spanish Revivals to those inspired by the solid stone elegance of the Romanesque and Renaissance villas of Tuscany. Most of these homes are zoned to the Rancho Santa Fe School District, with a few within the Encinitas Union Elementary School District. Middle school and high school students are served by the San Dieguito Union High School District.
These are only some of the communities to be found in Rancho Santa Fe. Others include Cielo, the Del Mar Country Club, Hacienda Santa Fe, the Groves, Del Rayo Estates, the Summit, Rancho Del Lago, Montecito, and quite a few more. Contact Sue De Legge to learn more about the wealth of luxury real estate options in Rancho Santa Fe.