Welcome To Encinitas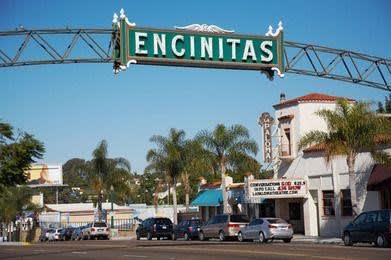 With the Pacific Ocean at its doorstep and rich farmland at its flank, Encinitas is a pretty beachside town with a stable agricultural base. Known as the Flower Capital of the World, Encinitas has many a thriving business based on flowers, fruit, or vegetables. The weekly farmer's market is a riot of color, with gorgeous blooms, vegetables and fruit on sale alongside local arts and crafts.
Encinitas has more than six miles of ocean frontage and plenty of lovely beaches, and the long, dry California summers ensure that residents can make the most of them. There are dozens of ball fields and several excellent parks, and new wilderness and recreation areas are in development. The gorgeous Quail Botanical Gardens is also well worth the visit, and plays host to a popular summer concert series. Visit www.qbgardens.org for more info.
Several distinct communities comprise Encinitas today:
Historic Old Encinitas runs along the beachfront and is made up of a mix of picturesque cottages and modern beach houses. Surf shops and ethnic restaurants suit the residents, who are mostly surfers, alternative lifestylers, tri-athletes, and business professionals who prefer to stay out of the suburbs.
Encinitas contains several suburban tract neighborhoods that were mostly built in the nineteen-eighties. Homes range from tidy and affordable to large and executive, and there is a wide range of adult communities and mobile-home parks for retirees to choose from. There are several large shopping centers, including a brand new complex along the main road, El Camino Real. New Encinitas appeals to those in search of a safe suburban lifestyle and good schools, and to families who want to spend plenty of time at the beach!
Homes In Encinitas Ranch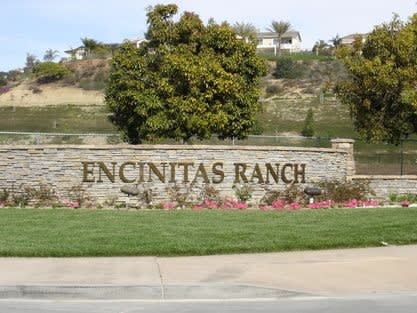 Encinitas Ranch is a newer golf course coastal community sitting just east of I-5. Its attractive new luxury homes appeal to retirees and executives. The Encinitas Ranch Golf Community is located on the only remaining ocean view property of its kind along the beautfiul coastline of San Diego County.
The trail system in Encinitas Ranch is one of the best in coastal North San Diego County. Stunning views of the inland back country greet hikers and runners. The gorgeous Quail Botanical Gardens is also well worth the visit, and plays host to a popular summer concert series. Please visit http://www.qbgardens.org to learn more about the Gardens as well as their new Children's Garden.
Beautiful Leucadia, a beachy community within Encinitas, is a nineteen century town famous for the giant eucalyptus trees that line its Coast Highway as well as the uniqueness of all its properties. Many of the properties sit on larger lots, exude much character and are in within blocks of the beach.