Welcome To Cardiff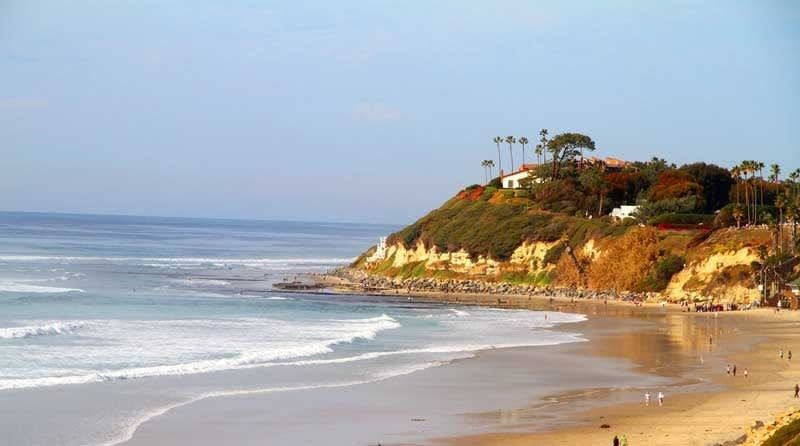 Founded in 1914, Cardiff-by-the-Sea is a quaint shoreline community popular with surfers and holiday makers. From funky beach homes to luxurious larger homes, Cardiff overlooks the two-mile coastline, and world class surf draws professionals and amateurs alike from around the world. One of the highlights of their visit is Cardiff Reef at the mouth of the San Elijo Lagoon, where surf consistently breaks both right and left year round.
Location

The City of Encinitas is in San Diego County, California, on the Pacific coast between Solana Beach to the south and Carlsbad to the north. About twenty-five miles north of downtown San Diego, Encinitas is bordered by Batiquitos Lagoon to the north and San Elijo Lagoon to the south; scenic wilderness areas lie to the east. I-5 passes through Encinitas on its way south to San Diego and north to Los Angeles and beyond to the San Francisco Bay area. I-15 runs parallel, about fifteen miles inland to the east. Several main routes run west/east between the two interstates, including Encinitas Boulevard and Olivenhain Road.
Olivenhain is about five miles inland from downtown Encinitas, and Carlsbad is about seven miles north up the coast. Solana Beach is about four miles to the south.
Transportation / Airports
The San Diego International Airport is about twenty-three miles south of Encinitas. The busiest single-runway commercial airport in the nation, it sees some six hundred flights arrive and depart daily. The McClellan-Palomar Airport in nearby Carlsbad serves light aircraft (both private and commercial) and provides an air-shuttle to surrounding airports. Taxi and limousine rental are available at the airport.
The San Diego Metropolitan Transit System provides a comprehensive bus and rail service throughout the pacific coast region north of San Diego, including Encinitas and Carlsbad, with myriad coastal and inland routes. With a train connection to San Diego, many Encinitas residents find it easy to commute for work. Amtrak also stops in Encinitas.
Brief History
When the Spaniards first appeared in the Encinitas area, they met the original inhabitants, Indian groups they named the San Dieguitos, the La Jollans, and the Dieguenos. Over time the Dieguenos chose to become Christian converts; these people helped to build the Spanish Missions in the region.
In 1669, the Governor of Baja California, Gaspar de Portola, traveled with a group of supporters through the San Diego and Monterey area, establishing "presidios"-schools and churches to spread Spanish and Catholic culture. Upon reaching the Encinitas area, Portola named it "Encina Canada" ("Hills of Live Oaks" for the small oak trees on the surrounding hills.
Spain ceded California to Mexico and throughout the eighteen-hundreds the Mexican government issued land grants to ranchers willing to give frontier life a chance. In 1842 Andreas Antonio Ybarra was granted 4,431 acres between present day San Diego and Carlsbad, and he named his rancho "Los Encinitos". In 1848, when California became part of the United States, Ybarra filed claim with the United State board of Land Commissions. His claim to the rancho was confirmed and accepted, but the spelling was changed to "Las Encinitas."
In 1870 a group of English spiritualists established Leucadia, which is now a suburb of Encinitas, and in 1881 Jabez Pitcher filed a claim for what became downtown Encinitas. In 1875 the McKinnon family homesteaded on the north shore of the San Elijo Lagoon, and in 1909, developer J. Frank Cullen bought a large tract from the family, built streets and lots and named it "Cardiff-by-the-Sea," (after Cardiff, Wales) in 1914.
Encinitas grew to be a popular holiday destination and place to get away from it all. In the nineteen-sixties and seventies, surfers and people seeking alternative lifestyles made a home for themselves in Encinitas, personalizing the quaint beach cottages and homes that make up the pretty beachfront and older part of town. In the nineteen-eighties tract housing developments began to be built inland, and Olivenhain saw rapid upscale development. In 1986 Encinitas was further expanded when the communities of Encinitas, Olivenhain, Cardiff, and Leucadia voted to unite as a city. Leucadia has remained a relaxed surf village and Cardiff retains its quiet beach town feel. Olivenhain is a largely rural community with homes selling for upwards of a million dollars.
About Education
Encinitas is served by three school districts: the Encinitas Union Elementary School District, San Dieguito Union High School District, and the Cardiff Union School District. All three districts consistently rate highly in state and county level comparisons for student test scores and academic and supplementary programs. SAT9 test scores place the districts far above the county average in all subjects.
The Encinitas Union Elementary School District serves the City of Encinitas and the La Costa area of Carlsbad and its nine K to Grade 6 schools have all been recognized as "California Distinguished Schools". La Costa Heights School and Olivenhain Pioneer are both National Blue Ribbon Schools.
​Several excellent private schools provide further choice for parents, and continuing education is close at hand. The renowned California Institute for Human Science is in Encinitas and the Gemmological Institute of America is about nine miles away in Carlsbad. Palomar and Mira Costa colleges are about ten miles away in San Marcos and Oceanside respectively, and San Diego has the San Diego Miramar College and the San Diego Mesa College. Mira Costa has a weekend adult education program in addition to its regular daytime curriculum. The University of California, San Diego, and San Diego State University are about twenty miles from Encinitas and the National University is about fifteen miles away in La Jolla.